Over four decades of ownership, I've made a number of significant modifications to my 1973 FJ40—a different (but still Land Cruiser) transmission, a drop-down tailgate to replace the mini swing doors, post 1975 single-piece front doors to reduce rattles, late-model European mirrors, and a few others. I've also added several aftermarket accessories—a Stout Equipment rear swingaway tire/jerry can carrier (brilliant, and no longer made), the Warn 8274 winch, Old Man Emu suspension, and, at various times, a roof rack and front brush guard.
Through all the years, however, I've tried to maintain more or less a semblance of a period look to the vehicle. After running alloy wheels for several years, I reverted to aftermarket but correct non-USA 16 x 6-inch steel wheels that accept the factory hubcaps—and nothing says quirky original Land Cruiser styling than those hubcaps. I stuck with the factory seats but had them re-upholstered in more comfortable fabric than the sweaty—and shamefully cheap—factory vinyl. (Quality upholstery was the last aspect of manufacturing Toyota mastered.) I stuck with the stock, 17-inch diameter hula hoop of a steering wheel but stitched a one-piece leather cover on it for a bit of extra grip. Power steering? Never.
In one aspect I never hesitated to alter the factory components or look: safety. I installed a full front roll cage and three-point inertia-reel lap and shoulder harnesses, replacing the original lap belts. I added late-model head restraints (interestingly the seat backs had provision for them). And I swapped out the four-wheel drum brakes for four-wheel discs. Much of this did nothing but slightly update the apparent model year of my FJ40, since the 40-series body remained virtually the same right through the end of production in 1983.
Another critical safety consideration was lighting. Shortly after buying the 40 I installed a set of Cibié's superb Z-beam halogen headlamps, vastly superior to the 1940's technology sealed-beam originals. Some time later I added a pair of Cibié Super Oscar driving lamps, at the time the pinnacle of automotive lighting technology and virtually standard equipment on rally cars and Paris-Dakar racers at the time. The combination served me well when I was guiding in Mexico, where livestock on even major highways is a common hazard, and later when Roseann and I lived on several remote properties, on the dirt roads to which cattle, deer, and coyotes made occasional suicidal forays.
I used the Super Oscars until they were completely sand-blasted and the reflectors had finally oxidized, and replaced them (yes, I threw them away!) with an equally effective if considerably less romantic set from IPF. The Z-Beams had also gone, replaced with Hellas that, while excellent, never seemed to have quite the same perfect beam control or even spread of light. After the Arizona and Mexico desert sands wore out the Hellas (I've owned this vehicle a long time) I installed a pair of Trucklite halogen lamps with complex reflectors and clear lenses, which were probably better than the Cibiés. This eased me away from the traditional faceted lenses of earlier headlamps, but still looked reasonably period.
Then the LED revolution happened. And the look of driving lamps and headlamps changed forever.
Even after testing several brands of LED driving lamps, I couldn't bring myself to install them on the FJ40. They just looked too . . . modern. Too much bling compared to the simple reflectors of the IPFs. And the early replacement 7-inch round LED headlamps I reviewed left much to be desired, evidencing massive purple fringing and blotchy patterns.
One salient thing nibbled at the back of my brain however: My FJ40 has a 55-amp alternator (compared to the 120-plus amps of modern alternators), and it is difficult to upgrade because all the power from the alternator runs through the ammeter via a single wire (a rare dumb design from Toyota). When I flicked on the IPFs and their 125-watt bulbs, they sucked up 21 amps of that output, and with the halogen headlamps on high beam, that was another 16 amps. It was a wonder there was power left to get to the spark plugs. Those LED driving lamps required a fraction of the power to produce the same light.
I got over my Luddite stylistic hangups in Australia. There we had bought a 1993 HZJ75 Troop Carrier and had it converted with a pop top and a bunch of other modifications—one of which was a set of ARB Intensity LED driving lamps furnished by the company. On a single, poorly planned drive after dark toward Alice Springs, those lamps—well, I can't say they paid for themselves, but they would have—anyway, they safely bored a bright 5000ºK hole through the Australian night, illuminating the large marsupials bounding suicidally across our path. When we got home I immediately added an identical pair to the FJ40. The headlamps, however, remained stubbornly incandescent. If LED driving lamps looked like something off the Starship Enterprise, most LED headlamps looked like they belonged on a Klingon Bird of Prey.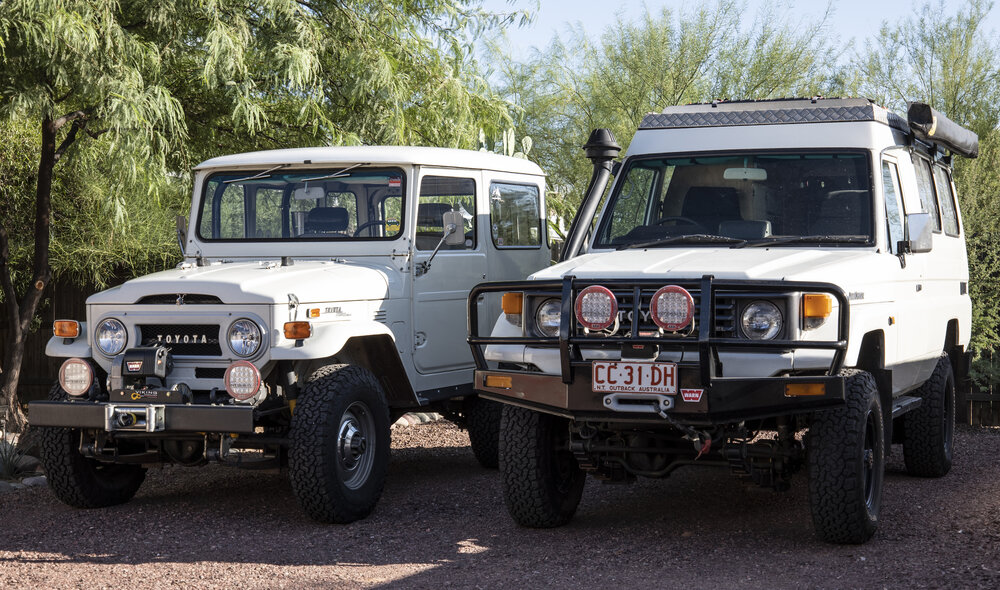 However . . .
I'm working on an article for Tread magazine, about upgrading classic 4×4 vehicles such as the FJ40, or Series Land Rovers, Scouts, or CJ Jeeps, to make them more comfortable, safe, and capable for modern use. The FJ40 is getting new gearing, AC, and, just possibly, fuel injection, along with the existing upgrades I mentioned above. Given the goals, I decided it was time to grit my teeth and upgrade the headlamps, and KC Hilites—yes, KC of the classic budget Daylighters with the smiley-face covers—offered to send me a pair of their 7-inch Gravity LED headlamps. When received, I was relieved to note that they look less . . . Klingony . . . than most of their kind.
The Gravity headlamps are virtually a universal, plug-in fit for any vehicle with 7-inch round headlamps, although I found that I need to trim the headlamp buckets on the 40 by just a couple millimeters to clear the backs of the Gravity lamps. Once that was accomplished—the work of five minutes with a jigsaw—they dropped right in.
I've yet to be able to head out to Ravenrock for a full test, but initially the pattern and color look excellent. Power draw on high beam is just 3.6 amps. For both lamps.
And the appearance? Hmm . . . I'll get back to you . . .
Original Article
ExploringOverland.com Post
Content curated by Nomadist's Adventure Feed
As an aggregator of outdoors content and automotive-driven experiences, we strive to drive as much traffic and support small & large content creators through our service, but you can also directly support the creators by subscribing to their blogs, sharing their posts and following them after viewing the Original Article.
Original Article
If you're an influencer, blogger or content publisher in the adventure, recreational and travel sectors and want to be listed in our Explorers database and our sections of Nomadist, please use our contact form. Let's work together to bring your content to an extended audience and ensure you get credited and benefit from it!